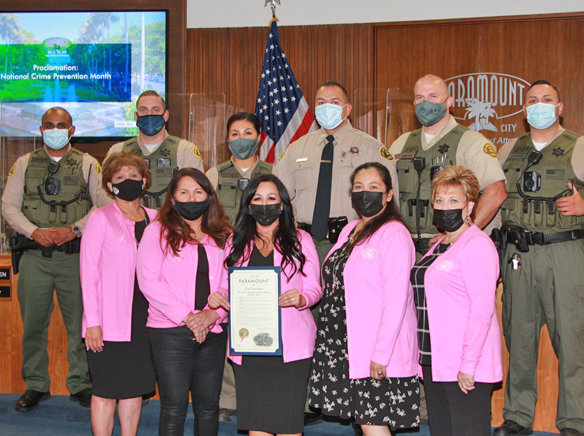 October is National Crime Prevention Month
Courtesy of city of Paramount
The Paramount City Council proclaimed October as National Crime Prevention Month at its Oct. 5 meeting, and thanked all of the City's partners who help fight crime in Paramount including members of Neighborhood Watch, Volunteers on Patrol, the Special Assignment Team, Community Service Officers, and Code Enforcement Officers. Also highlighted was the City's strong relationship with the Los Angeles County Sheriff's Department. Thanks to these partnerships, Paramount has experienced a continual decline in serious crime for decades. Statistics are at levels not seen since the mid-1970s, when almost half as many residents lived here as do today.
As part of National Crime Prevention Month in October, the City of Paramount and the Sheriff's Department is reminding residents of its free anti-theft devices program to combat auto theft.
Certain vehicle models appear to be more targeted when it comes to theft. The free devices are for Paramount residents who own these models: Honda Civic and Accord; Chevrolet Silverado, Avalanche, Tahoe, and Express; and GMC Sierra.
Residents can get one device per vehicle at the Paramount Sheriff's Station, 15001 Paramount Blvd., Monday through Sunday from 7:30 a.m. to 9 p.m. You must provide a photo ID, proof of residency (such as a utility bill), and proof of vehicle ownership. First come, first served, while supplies last. For more information, call (562) 220-2002.
In the meantime, here are some tips to help you avoid auto theft and burglary.
Keep track of your keys. Don't leave them in the ignition or in the cup holder of your car.
Secure your vehicle. Close all windows and doors and make sure your vehicle is locked.
Don't leave valuables in your vehicle. Leaving your purse, wallet, backpack, or gym bag in an obvious and open spot in your car is enticing to a thief. Store them in your trunk or hide them under the seats, well out of view. Or, better yet, take bags and purses with you when you exit your vehicle to ensure that they do not attract thieves.
Make use of technology. An anti-theft device goes a long way when it comes to vehicle theft prevention.
Do not leave your GPS device attached to your windshield or on your dashboard. Such devices entice thieves to enter your vehicle, and once they're in, they might be tempted to steal the vehicle itself.
Electronics also attract potential car thieves. Smartphones, Mp3 players, laptops, and tablet computers are highly desirable items. Store them in your glove box or take them with you.
Be wary of where you park, especially at night. Try to find a parking space as close to the entrance of the building as possible. Park your vehicle around other cars. Avoid desolate areas in large parking lots. In the evening, make sure that you park in a well-lit area.
If your vehicle was stolen or broken into, contact the police immediately to file a report. You will need a copy of the police report and/or a case number to provide to your insurance company.
If you find your vehicle before authorities do, contact the police and your insurance company immediately.