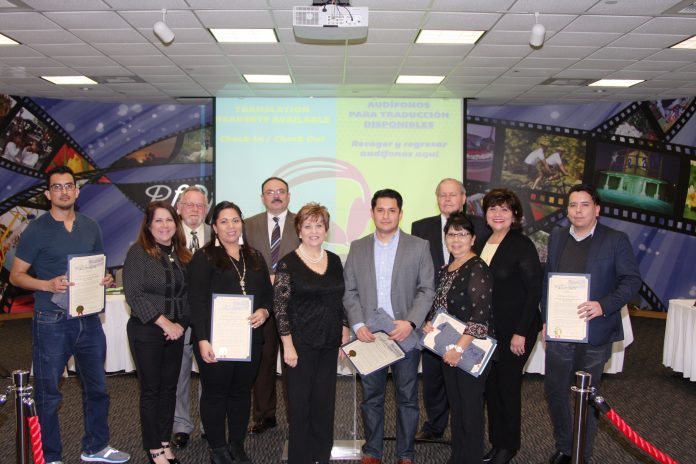 Council recognizes Air Quality Subcommittee members
For the Journal
The Paramount City Council recently recognized members of the the Air Quality Subcommittee during the presentations portion of the council's March 6 meeting.
In related news, the on Monday, March 19, the Planning Commission will look at the subcommittee's suggested changes to Paramount's Zoning regulations. The meeting will be open to the public.
According to a statement recently issued by the city, as the discoveries regarding elevated levels of hexavalent chromium (also known as chromium 6, a toxic metal compound known to cause cancer) were made in late 2016, one of the ways the city took action was by forming the Air Quality Subcommittee.
The panel was designed to study the issues related to metal businesses and come up with ideas to reduce the problems in the future. A number of individuals from the Paramount community served on the Subcommittee along with Vice Mayor Martinez and Councilmember Hofmeyer. They were recognized at the March 6 City Council meeting for their time, feedback, insight, and judgment in helping to improve things in town.
The Sub Committee members were Paramount residents Guillermo Parga and Mauricio Hernandez, former resident Jacklyn Avila, Public Works Commissioner Rosemary Vasquez, former Public Works Commissioner Alex Garcia, Emmanuel Reformed Church Pastor Rudy Rubio, and Paramount Unified School District Assistant Superintendent Ruben Frutos.
Their work resulted in a number of measures being developed. For instance, they made suggestions for changes to the City's zoning regulations that committee members believe will control potential sources of polluting metals in the future.
In related news:
• The South Coast Air Quality Management District Governing Board recently voted against holding a scheduled public hearing on a proposed change to an Air Quality District regulation of hexavalent chromium emissions. Instead of holding the April 6 public hearing, the district's Stationary Source Committee will receive a presentation on the updated schedule for proposed changes to Rule 1469 at the Stationary Source Committee's March 16 hearing.
• On Monday, Feb. 26, Anaplex Corporation, a Paramount business, was ordered by the Air Quality District to shut down all metal processing equipment and operations with the potential to emit hexavalent chromium after the district's air monitoring data found levels of the compound above a trigger threshold of 1.0 nanograms per cubic meter (ng/m3). Data collected on Feb. 16, Feb. 19, and Feb. 22, averaged 1.69 nanobrams during that period. On Feb. 16, the monitors found 0.35 nanograms of chromium 6, which was well below the threshold. On Feb. 19, the monitors found 2.13 nanograms, more than double the threshold. On Feb. 22, the monitors found 2.58 nanograms, also more than double the threshold.
Editor's note: In the interests of keeping readers as up to date as possible, this article was edited to combine information from the City of Paramount and the South Coast Air Quality Management District.