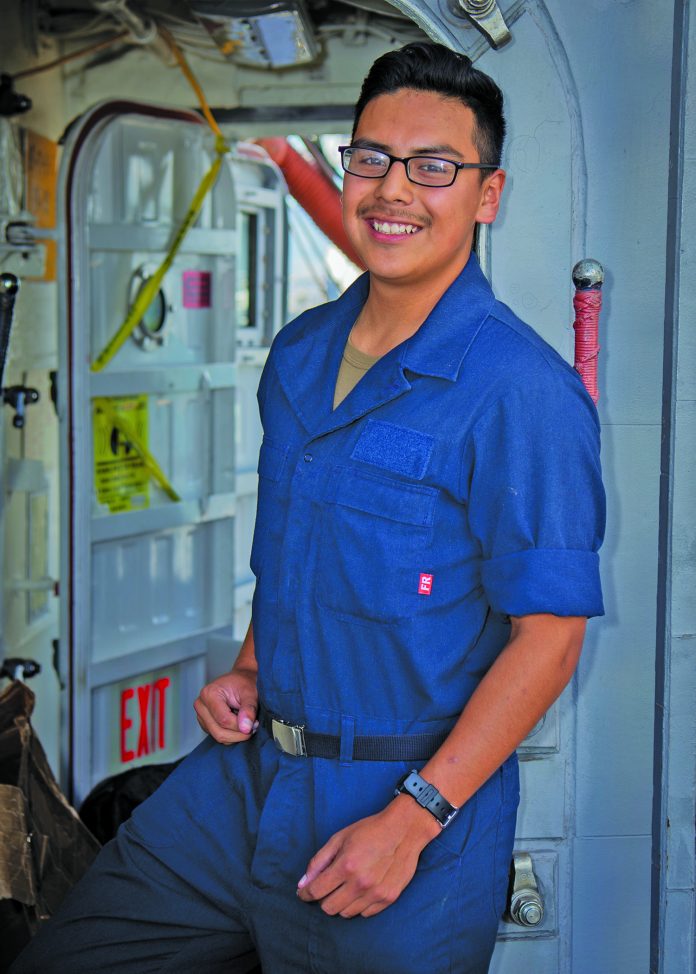 Seaman Apprentice Franklyn Estradagonzalez. Navy photo by Mass Communication Specialist 2nd Class Brian T. Glunt
Paramount high grad serves aboard guided-missile cruiser in Pearl Harbor, Hawaii
By Chief Mass Communication Specialist Erica R. Gardner, Navy Office of Community Outreach U.S.
A 2016 Paramount High School graduate and Compton native is serving in the U.S. Navy aboard the guided-missile cruiser USS Port Royal.
Seaman Apprentice Franklyn Estradagonzalez has served in the Navy for two years and is a U.S. Navy operations specialist aboard guided-missile cruiser operating out of Pearl Harbor, Hawaii.
As a Navy operations specialist, Estradagonzalez is responsible for keeping the ship well maintained. They do various training sessions about communication and navigation of the ship.
Estradagonzalez credits success in the Navy to many of the lessons learned in Compton.
"In my life I only learned from mistakes and the only thing I've done right is enlist in the Navy," said Estradagonzalez.
Approximately 300 men and women serve aboard the ship. According to Navy officials, their jobs are highly specialized and keep each part of the cruiser running smoothly. They do everything from maintaining gas turbine engines and operating the highly sophisticated Aegis weapons system to driving the ship and operating small boats.
Though there are many ways for sailors to earn distinction in their command, community, and career, Estradagonzalez is most proud of ensuring the ship looks good and is ready for operations.
"I really am proud of the hard work I have done on the ship and I love seeing how good it looks," said Estradagonzalez.
A Navy cruiser is a multi-mission ship that can operate independently or as part of a larger group of ships at sea Navy officials explained. The ship is equipped with a vertical launching system, tomahawk missiles, torpedoes, guns and a phalanx close-in weapons systems.
Being stationed in Pearl Harbor, often referred to as the gateway to the Pacific in defense circles, means Estradagonzalez is serving in a part of the world taking on a new importance in America's focus on rebuilding military readiness, strengthening alliances, and reforming business practices in support of the National Defense Strategy.
"Our priorities center on people, capabilities and processes, and will be achieved by our focus on speed, value, results and partnerships," said Richard V. Spencer, secretary of the Navy. "Readiness, lethality and modernization are the requirements driving these priorities."
The Navy has been pivotal in helping maintain peace and stability in the Pacific region for decades. The Pacific is home to more than 50 percent of the world's population, many of the world's largest and smallest economies, several of the world's largest militaries, and many U.S. allies.
Serving in the Navy is a continuing tradition of military service for Estradagonzalez, who has military ties with family members who have previously served. Estradagonzalez is honored to carry on that family tradition.
"I currently have a brother renamed Arnold Estrada stationed in Lemoore, California," said Estradagonzalez. "I joined because where I am from you only have two options: college or military. I chose the Navy because it's the best branch."
As a member of one of the U.S. Navy's most relied upon assets, Estradagonzalez and other sailors know they are part of a legacy that will last beyond their lifetimes, one that will provide a critical component of the Navy the nation needs.
"Serving in the Navy means a lot because I am living independently and being able to support myself and my family," added Estradagonzalez. "The Navy opened up a road I never thought I'd see. It showed me there is more to the world than the hood."