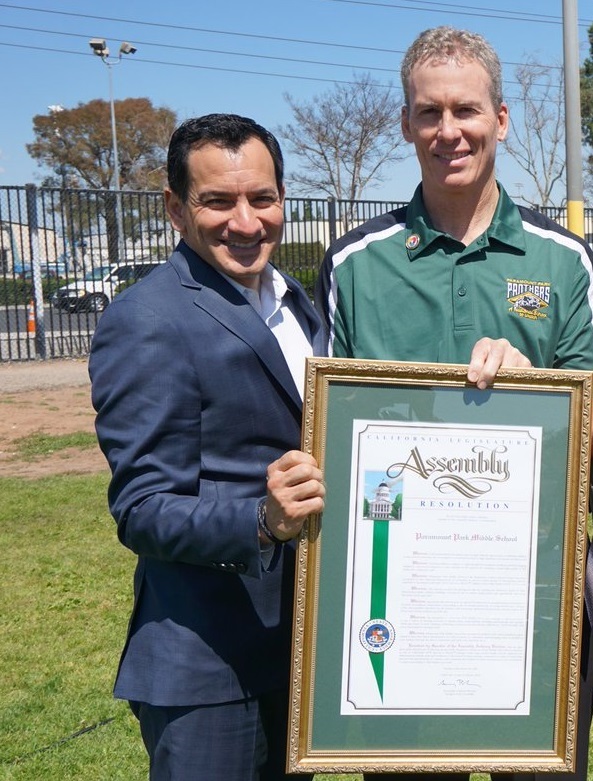 For the Journal
A gymnasium full of Hollydale K-8 School seventh- and eighth-graders cheered wildly and tossed blue and yellow confetti through the air on March 26 as Paramount Unified Board members and community leaders raised a Schools to Watch banner.
Hollydale hosted a community celebration that included U.S. Rep. Nanette Diaz-Barragán and South Gate Mayor Maria Davila to commemorate its recognition as one of just 22 schools in the state on the 2018 Schools to Watch list.
"We should be proud of all that we have achieved here at Hollydale," said Paul Posadas eighth-grade Student Body president, during a keynote speech. "Our school continues to expand curriculum to offer more opportunities for success to students and we are growing because of it."
Hollydale's event set off a festive day for the District. Paramount Park Middle School basked in its inclusion on the STW List during a gathering at Paramount High School West campus that was attended by California Assembly Speaker Anthony Rendon.
"This is a major honor for our entire community and speaks to the way we're pushing each other to create the best environment for our students," said  Vivian Hansen, president of the Paramount Unified School District Board of Education.
The Schools to Watch list, created by the National Forum to Accelerate Middle-Grades Reform, identifies schools across the U.S. that share three features: academic excellence, developmental responsiveness to early adolescence and social equity.
Paramount Unified is one of just five districts in the state to have every middle school recognized on the STW list.
"We are extremely proud of the work our middle schools have achieved through new programs and practices that have driven student success," Dr. Ruth Pérez said. "Through programs like: Advancement Via Individual Determination (AVID), robotics and our positive discipline system, we're raising the bar of success for our children."
Hollydale students reveled in their STW honor with "Go Hornets" signs and chants. The school's cheerleading squad entertained the audience while the band played a pair of selections.
Dr. Irvin Howard, past president of the National Forum to Accelerate Middle-Grades Reform, presented the banner to Hollydale while noting that the honor goes well beyond test scores and can be attributed to the school's commitment to supporting each student.
Diaz-Barragán shared how she grew up as a first-generation student and the youngest of 11 siblings. She implored Hollydale students to never be discouraged by perceived barriers.
"We're so honored that Congresswoman Nanette Diaz-Barragan, Mayor Davila, Mr. Howard, Superintendent Pérez and the board took take the time to visit our school and share in this honor with us," said Hollydale Principal Lisa Nunley-Macon. "It's precisely this community spirit that has allowed us to inspire our students to do great things."