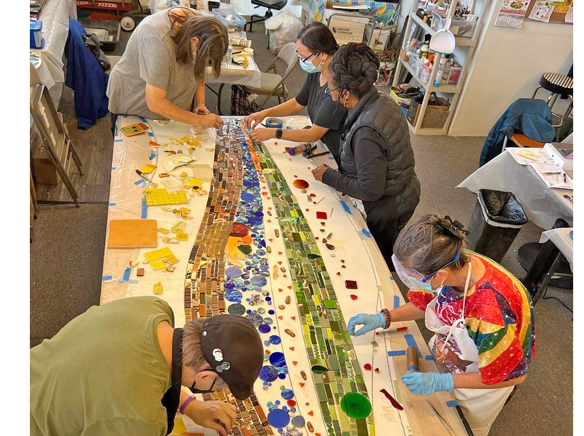 'Brilliance of community' is city's 65th piece of public art
On June 4, the City of Paramount unveiled a new artwork decorating the side of its Community Center in Paramount Park. (See photo on page 2.)
Entitled "Brilliance of Community," the mosaic was created by a team of 11 artists with Piece by Piece, a non-profit organization that supports individuals in the Skid Row and South Los Angeles neighborhoods now living in permanent supportive housing.
By providing free workshops that offer the opportunity for certificate training, Piece by Piece empowers residents who have experienced homelessness or economic insecurity to earn supplemental income and contribute to large-scale commissions and public art.
Paramount is the first municipality outside of the City of Los Angeles to engage the group for a project.
"Brilliance of Community" becomes the 65th piece in Paramount's substantial public art collection that includes sculptures and murals all over town.
That amounts to roughly 13 public art exhibits per square mile.
"The Community Center, which is also the site of our Senior Center, is one of our most popular public buildings, said Paramount Mayor Vilma Cuellar Stallings. "Now everyone coming inside will pass this very special image. We thank Piece by Piece and all of the talented artists who produced this beautiful work."