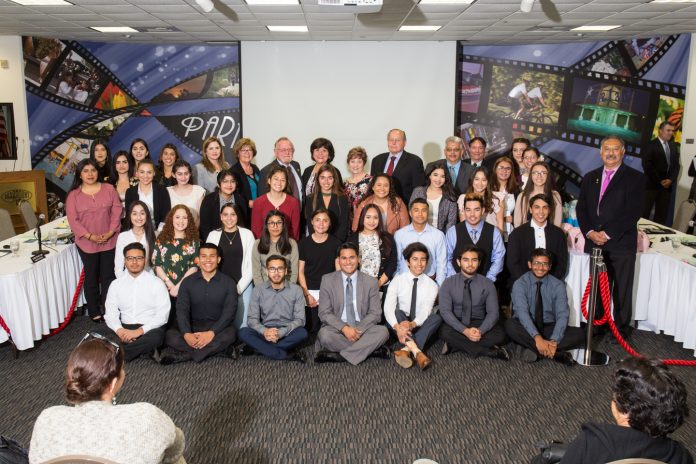 The Paramount Education Partnership (PEP) has been giving out college scholarships for 14 years to Paramount students attending a two- or four-year college or technical school. The amounts range from $1,000 to $4,000. Selection of the recipients is based on academics, an essay, outside activities, future goals, and economic need.
The program has been made possible in the most part due to generous support from the local business community at the annual fundraiser, as well as other smaller fundraising efforts throughout the year.
This year record 42 scholarships were awarded for $140,000 overall. That figure puts PEP over the $1 million mark of money given to students since the scholarships began.
They were recognized by the Paramount City Council, Paramount Unified Board of Education, and the PEP Foundation Board of Directors at the May 1 City Council meeting.
The following individuals (with the school they will attend) received a PEP college scholarship for 2018.
Cesar Arzate, UCLA
Jessica Avalos, Cerritos College
Maricarmen Ayala, UCLA
Alyssa Baca, Cal State Long Beach
Arellys Burgos, UCLA
Andrea Cardenas, Cal State Long Beach
Zarelia Anahi Carrera, Cal State Long Beach
Dianna Chaidez, UC Santa Barbara
Karina Cortes-Garcia, UC Irvine
NitzeCuarenta, Mount Saint Mary's
Klara Doe, San Jose State
Christopher Duran, UCLA
Pablo Esparza, UCLA
Michael Gomez, Cal State Northridge
Esmeralda Herrera, Long Beach City College
Liset Huerta-Sanchez, Cal State Long Beach
Rosemelly Jimenez-Medal, UC Merced
Juan Lopez-Villarreal, Cal State Long Beach
Bryanna Macias, UC Santa Barbara
Cristiline Magana, Cerritos College
Yoana Martinez, UC Irvine
Isaac Mena, UC Irvine
Melissa Montoya, UC Santa Barbara
Carlos Moreno, UC Irvine
Ezekiel Moreno, San Jose State
Omar Munoz, UC Irvine
Judith Murillo, UCLA
Bryanna Paz, UC Berkeley
Chloe Phanuekthong, UC Irvine
Aniela Ramirez, UCLA
Jasmin Ramos, UC Irvine
Luisa Robles, UC Davis
Kassidy Rodriguez, UC Berkeley
Karla Rodriguez-Picasso, UC Irvine
Cecilia Saenz, Cal Poly Pomona
Paulina Salas, Cal State Dominguez Hills
Derick Salladay-Perez, UC Davis
Yesenia Sifuentes, Cal State Long Beach
Javier Solorzano, Cerritos College
Danny Vazquez, Cerritos College
Briana Villaverde, UC Irvine
Vincent Wirch, Azusa Pacific
Thank You, PEP Donors!
The Paramount Education Partnership and the City of Paramount express their thanks and gratitude to the following donors who helped make this year's scholarship a reality for our students:
$122,000
Pennies for PEP – Paramount Unified School District
$15,000
Weber Metals, an Otto Fuchs Company
$10,000
Alt Air Paramount
Marukan Vinegar (USA), Inc.
$5,000
R & N Kroeze Family Trust
$3,000
FENICO Precision Castings, Inc.
Fiesta Taxi Co-Op, Inc.
Mattco Forge, Inc.
Willdan Group, Inc.
$2,500
Carlton Forge Works
County of Los Angeles, Supervisor Janice Hahn's Office
$1,500
CalMet Services, Inc.
MUSA (PEP Moms)
$1,000
Charles & Margaret Garcia
Daryl & Barbra Hofmeyer
Kenny's Auto Service
SC Fuels
Zamboni Company
$500
The Office of Assemblymember Anthony Rendon
Atkinson, Andelson, Loya, Ruud, and Romo
Dr. Max Martinez, DDS
Farmers & Merchants Bank
Guillen Investment Properties
Gus's Deli BBQ & Grill
Horchateria Rio Luna
Ink Head Prints
Paramount Elks, 1804
RMI International
The Paramount Community Coalition Against Toxics
$499 and Under
DeMaria Electric Motor Services, Inc.
Gamma Zeta Delta Kappa Gamma Society
Jill & Carlos Gutierrez
Vivian & Tom Hansen
New York Life Insurance, Christopher T. Hicks
Peggy Lemons
Beatrice Proo
TAP
John & Marsha Zuldervaart
Event Sponsors
City of Paramount
Marukan Vinegar (USA), Inc.
Paramount Unified School District
Restaurant Fundraising Sponsors Through the Year
Alondra Hot Wings
Chipotle
Gus's Deli BBQ & Grill
Horchateria Rio Luna
IHOP